EVL NUTRITION
Lean BCAA
Supports lean muscle growth
Elevates endurance level
Helps to recover much quicker
EVL Lean BCAA is designed to support lean muscle growth, improve recovery time and burn unwanted fat.
EVL Lean BCAA provides the most scientifically researched 2:1:1 ratio of BCAA's to maximize your muscle growth potential. Delivering the branched chain amino acids in the above ratio ensures you are getting adequate amounts of Leucine, as this is the amino acid which is rapidly depleted during sport and training. In saying this, isoleucine and valine are also extremely important as these BCAA's play a crucial role in protein synthesis. Lack of proper recovery can limit your muscle building potential so getting the correct nutrition to your muscle tissue is a must.
This product also contains 2 leading stimulant free fat burners - CLA (Conjugated Linoleic Acid) and L-Carnitine L-Tartrate - they support metabolism and usage of stored fat for energy during exercise.
Directions
Mix 1 scoop of Lean BCAA with approximately 300-350ml of cold water. Vary the amount of water by taste. Drink during and post training.

ADVISORY INFORMATION:
Store in a cool dry place. Do not exceed the recommended daily dosage. Do not use as a substitute for a varied and balanced diet. Keep out of reach of young children.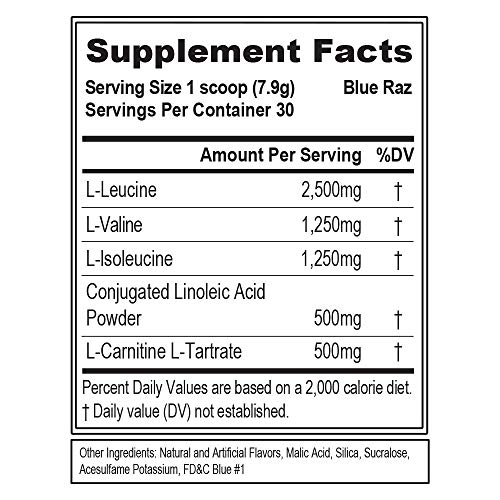 Nutrition Facts
1 Serving Size: 1 Scoop (8.9g)
Amount Per
1 serving
%DV*
L-Leucine
2500 mg
**
L-Valine
1250 mg
**
L-Isoleucine
1250 mg
**
Conjugated Linoleic Acid Powder
500 mg
**
L-Carnitine Tartrate
500 mg
**
* Percentage of Daily Value per one full serving.
** Daily Value is not established.
Ingredients / Other Ingredients: Natural and artificial flavor, malic acid, silica sucralose, acesulfame potassium.
Allergens / Warnings: Contains Soy.
Info: Ingredients and their nutrition values are shown for product in Fruit Punch flavor. Other flavors might have some differences.